Individual Safety Management
Considering each individual as a valuable family member, Hanwha TotalEnergies Petrochemical actively carries out various activities, such as education, inspection activities, safety campaigns, communication, and health management in order to create a safe workplace for all employees and partners.
Customized
Education
by Tier

Safety education for 
new workers
Safety leadership 
education
On-line education
Safety experience 
education
On-site
Inspection to
Ensure Work
Safety

Establishing constant 
inspection system 
Joint inspection 
between 
management and 
labor 
Employee safety 
guidelines
Top5 golden rules
Safety
Campaign to
Improve Safety
Culture

Campaign to improve
drinking culture
Joint safety campaign
with high-ranking
officials
Challenge! No-accidents
Golden Bell
Safety drama
Communication
on for safety
and health
information
delivery

Occupational safety
and health committee
Safety environment day
Safety manager regular
council
World day for safety
Healthcare
for
Workers

Work environment
measurement
MSDS
General examination
/special examination
Prevention of
musculoskeletal
disorders
SMART Safety Management
Hanwha TotalEnergies Petrochemical is leading SMART safety management technology to keep up with era of the 4th industrial revolution. In particular, Hanwha TotalEnergies Petrochemical is making an effort to prevent major disasters by developing its own remote monitoring system (RMS) through wearable airbag and portable CCTV to mitigate impacts on important parts of the body in case of a fall.
Process Safety Management System
Process accidents at petrochemical plants can lead to fire, explosion, leakage of hazardous materials, and serious loss of life and property. Hanwha TotalEnergies Petrochemical is making every effort to prevent serious occupational accidents by establishing a process safety management system based on the 12 elements of PSM, identifying risks, recognizing risks, and controlling them.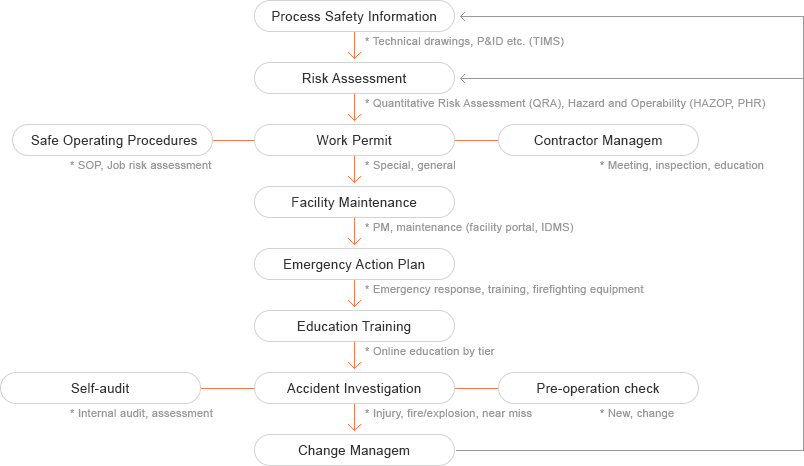 Contingency Plan
Hanwha TotalEnergies Petrochemical is operating a contingency organization for each plant in an effort to deal with accidents such as fire, explosion, gas or oil leak. Hanwha TotalEnergies Petrochemical also is doing its utmost to minimize damage in case of an emergency by establishing a contingency scenario and conducting emergency drills on regular basis where every employee participates.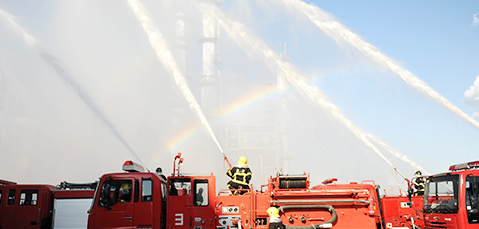 Disaster prevention center : Monitoring the plant 24 hours a day
Establishing automatic fire detection system in all plants
Surveillance focused on dangerous area with Closed Circuit TV
Establishing the system to jointly cope with emergencies
Securing emergency medical technicians
Operate fire drill field independently
Prevention of Environmental Pollution
Hanwha TotalEnergies Petrochemical continues to try to reduce pollutants by managing sources that can cause environmental pollution, preventing environmental pollution accidents, and complying with environmental laws and regulations.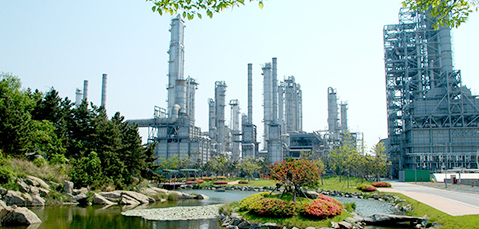 Natural park operation on plant site
Installation of denitrification equipment for boiler and power generation facilities (SCR : Selective Catalytic Reduction, FGR : Flue Gas Recirculation)
Installation of arsenic acid emitting materials incinerator (RTO : Regenerative Thermal Oxidizer, VCU : Vapor Combustion Unit)
Construction of LDAR (Leak Detection and Repair) System for the management of arsenic acid emission facilities in every plant
Installation of wastewater treatment plant storage cover and QBR (Quick Bio-Reactor)
Emergency shut-off of rain waterway and operation of rain water separation facility
Management of the whole waste process and implementation of continuous reduction activities through system
Chemical Management
Hanwha TotalEnergies Petrochemical operates CheMiR (Chemical Management Including REACH) to build a database of domestic and overseas regulatory information for each chemical substance; and actively copes with chemical accident by identifying and responding to harmful factors in advance throughout management of all chemical substances.
Advance review
Approval
Proceed with purchase
Performance management